EU22i
---
THE PORTABLE INDUSTRY FLAGSHIP
PORTABLE PERFORMANCE
The EU22i starts 'first time every time' with Honda's reliable one pull easy start system.
It's environmentally-friendly with low emissions, less noise and lower fuel consumption than its two-stroke counterparts, and can run up to 8.1* hours of continuous operation on a full fuel tank. Lightweight (21kg) and whisper-quiet (53dB**), the EU22i is the flagship generator of the portable power industry.
* With eco-throttle switched on at 1/4 output
** At 7m
NEED MORE REASONS TO CHOOSE A HONDA OVER ANOTHER CHEAPER GENERATOR?
Commercial grade engine - Honda is renowned worldwide for quality
Easier oil changes - bigger opening, longer spout, and larger gutter 
Improved recoil area - a stamped metal recoil rope insert to prevent damage to you, and the EU22...and every Honda starts first time every time!
Better ventilation - means better inverter cooling, creating better efficiency
A Honda generator will last - if you buy a cheap generator, expect to buy a replacement.
Honda makes over 14 million engines every year.
Honda products are premium products that will stand the test of time.
Honda generators have a four year warranty for peace of mind.
overview
EU22i
THE PORTABLE INDUSTRY FLAGSHIP
Our most popular portable generator, the EU22i, is 10% more powerful than its predecessor, whilst remaining just as light and as quiet as before.
The number one portable generator, the EU22i, features a microcomputer-controlled sinewave inverter that guarantees commercial-quality electricity – making it ideal for use with frequency-sensitive electrical equipment such as laptops and home computers.
The EU22i features an eco-throttle adjusting the engine speed and only running at full capacity when required. This increases fuel economy and reduces noise. 
It also features parallel connection compatibility. For additional power, you can link two Honda inverter generators in parallel operations with a simple connection cable.
4 STROKE ADVANTAGE
Utilising the commercial grade Honda GXR120 engine, this unit is designed and built with user convenience and environmental impact in mind. The EU22i features an advanced 4-Stroke engine for strong performance and fewer emissions.
Honda's 4-Stroke engines eliminate the need to mix fuel and oil, which saves you time and money.
They also provide superior fuel efficiency and emit significantly less carbon and noise than most of their two-stroke counterparts, so you'll breathe easier with the EU22i.
Plus, the handy 'fuel off' feature' allows you to idle the unit until the fuel in the fuel lines has been used. This means that you can safely store your generator without any stale fuel still inside.
features
SPECIFICATIONS
YOUR Generator IN DETAIL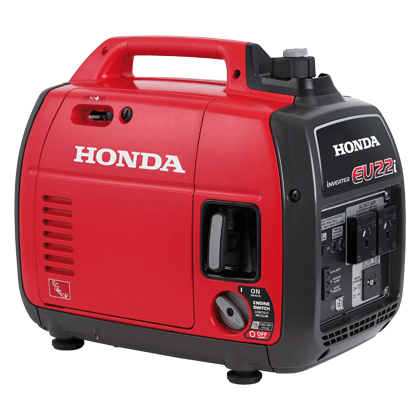 | | |
| --- | --- |
| Product Code | EU22ITU4 |
| Generator Type | Mulitpole field rotation type (inverter) |
| Engine | Commercial Grade GX120R |
| Displacement | 121cc |
| Ignition System | Transistor |
| Oil Alert | Yes |
| Starting System | Recoil |
| Stopping System | Ignition primary circuit ground |
| Fuel | Unleaded |
| Fuel usage | 1.14 litres/hr approx. |
| Fuel Tank Capacity | 3.6 litres |
| Continuous Operating Hours | 8.1 hours - with eco-throttle switched on at 1/4 output |
| Auto Choke | No |
| | |
| --- | --- |
| Length | 511mm |
| Height | 425mm |
| Width | 290mm |
| Weight | 21kg |
| | |
| --- | --- |
| Maximum AC Output | 2200VA / 2200W |
| Rated AC Output | 1800VA / 1800W |
| DC Output | 8.3A |
| Rated Voltage | 240V |
| Rated Frequency | 50Hz |
| AC Circuit Breaker | Yes |
| DC Circuit Breaker | Yes |
| Operating Noise Level (At 7m) | 53dB(A)* at 7m - with eco-throttle switched on at 1/4 output |
| | |
| --- | --- |
| Fuel Off feature | Yes - allows you to idle unit to use up fuel to help with storage eliminating stale fuel in fuel lines |
| Battery Charging | Yes |
| Volt metre | No |
| Auto Throttle | Eco throttle |
| Fuel Guage | No |
| Pilot Lamp | Yes |
| Air Cleaner | Dual element type |
| Large Capacity Air Cleaner | Yes |
| Large Capacity Fuel Tank | Yes |
| Large Capacity Muffler | Yes |
| Parallel connection | Optional cable required |
the honda advantage

4 Year Domestic Warranty
---
Honda's leading range of power equipment comes with leading warranty periods. Our range of power equipment products carrying up to a 4 year domestic warranty*.
With regular servicing by a Honda authorised dealer, using only Honda Genuine Parts and Accessories, your Honda product will work hard around your home for many years. 
Find more details on Honda's warranties and the warranty schedule on our warranty page. 
Enquire Now
---
Ready to take the next step towards your Honda Power Equipment? With our nationwide network of dealers, from the far north to the deep south and everywhere in between. You can purchase online, or enquire now for more information on Honda Power Equipment and to find your local Honda Power Equipment Dealer.
Enquire Now
other generators