iGX800
---
reliable, fuel efficient performance
FUEL EFFICIENT OPERATION
The EFI (electronic fuel injection) configuration eliminates the carburettor and allows an electronically-controlled fuel injector to deliver the required quantity of fuel, thus offering a number of key features for the new Honda models, including:
Fuel efficiency due, in part, to an electronic control system that continuously monitors and adjusts the engine's air/fuel ratio according to variable operating conditions.
Enhanced reliability and less maintenance due to reduced fuel-associated carburettor issues.
Improved starting by continuously optimizing the air/fuel mixture.
Improved user comfort by eliminating the manual choke and fuel shut-off valve.
overview
igx800
FEATURES
This engine features a compact design including a hemispherical combustion chamber, integrated cylinder and cylinder head and forged steel connecting rods.  Other features that users will appreciate include a digital ignition system, long-life air filter, automotive-style starter motor and a pressurized fuel pump.  All these elements contribute to high efficiency, superior cooling, low noise and vibrations as well as reliable performance.
COMMON APPLICATIONS
The Honda iGX engines are the very finest stationery engines being produced by powering construction equipment (concrete saws, ride-on concrete trowels, vibratory rollers, generators, etc.) and lawn and garden equipment (tractors, shredders, etc.). 
PROVEN RELIABILITY
The iGX800's high capacity pump facilitates consistent oil delivery, and a handy oil alert so there is no risk of running dry and doing damage to the engine. There's a dual cylindrical air filter, and a large diameter air intake on board for superior cooling, perfect when operating over long periods of time.
The result is a long-lasting, high-performing and reliable engine.
SPECIFICATIONS
YOUR ENGINE IN DETAIL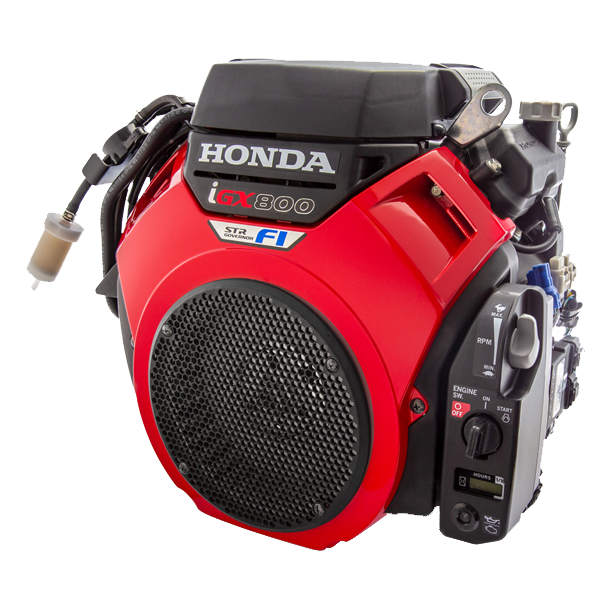 | | |
| --- | --- |
| Model | GX800IRH |
| Type | 4-stroke OHV petrol engine, horizontal shaft |
| Bore & Stroke | 2 / 83 x 72mm |
| Displacement | 799cm3 |
| Compression Ratio | 9:1 |
| Net Power | 18.5 kW (24.8 HP) / 3600rpm |
| Continuous Rated Power | 13.3 kW (17.8 HP) / 3000 rpm 15.0 kW (20.1 HP) / 3600rpm |
| Max Net Torque | 54.5Nm / 5.56 kgfm / 2500rpm |
| Ignition System | Full transistor ignition coil |
| Starting System | Electric starter |
| Fuel Consumption at Rated Power | 6.88 L/hr - 3600rpm |
| Lubrication System | Full-pressure |
| Recommended Fuel | Unleaded |
Oil Capacity
Without oil filter replacement: 1.6L
With oil filter replacement: 1.8L
Dimensions
429 x 492 x 438 mm (T-Type)
Dry Weight
48.2kg
the honda advantage
3 year warranty
Honda's leading range of power equipment comes with leading warranty periods. Our range of GX engines carrying up to a 3 year warranty*.
With regular servicing by a Honda authorised dealer, using only Honda Genuine Parts and Accessories, your Honda product will work hard around your home for many years. 
Find more details on Honda's warranties and the warranty schedule on our warranty page. 
Enquire Now
---
Ready to take the next step towards your Honda engine? With our nationwide network of dealers, from the far north to the deep south and everywhere in between. You can purchase online, or enquire now for more information on Honda Engines. 
Enquire Now
other Enignes